In addition to Onsight's staff, we also rely on our partners for synergistic fitness services at our location. Karina Polanco-Jimenez and PacWest Endurance share their expertise as premiere Bay Area strength and endurance professionals.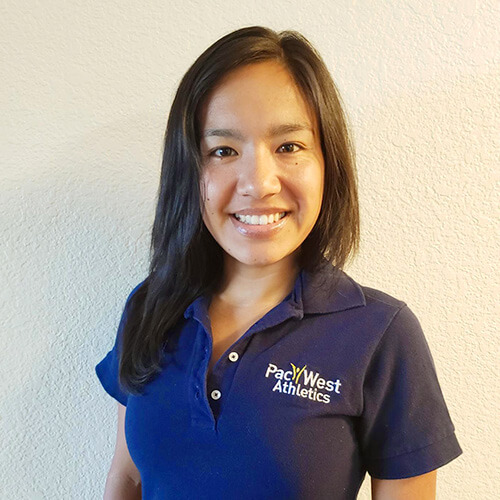 Karina Polanco-Jimenez, CPT
Front desk manager and certified personal trainer
Coach with PacWast Endurance
Sports saved Karina's life after battling with a broken family that led her to find refuge in bulimia and anorexia as the quick solution to her problems, for her weight and body image were the only aspects of her life she had control of. This only led to a vicious cycle of falling into the pits of depression. Karina's life changed drastically, for the better, during her last year of high school, after she moved from the High Desert to the city of Los Angeles where her new family allowed her to do sports. Karina's desire and dream to play sports became a reality. Team sports gave Karina a sense of belonging she had never experienced before. Leading her school's soccer team as their forward, in addition to her amazing performances jumping over hurdles and running almost every distance as a beginner for the school's track team filled Karina with confidence that she could do great things and stripped her of fear from trying out new things in life. This newly acquired confidence and fearless spirit is what led her on a new adventure to Cal Berkeley for her undergraduate degree.
While studying at UC Berkeley, Karina continued to nourish her athletic passion and competitive spirit by training on her own and competing in local 5Ks. Always searching for new challenges, Karina self-coached and completed her first triathlon ever at the Oakland Triathlon Festival 2017, and placed 2nd in her age group (20-24). Karina fell in love with the sport, continued competing, and with only about a year of experience and the help of her team, PacWest Endurance, she has competed in National Championships and is on here way to represent Team USA 2019 at the Draft-Legal Sprint Triathlon World Championships in Switzerland.
Confidence, fearlessness, healthy body image, and self love are all qualities that Karina acquired as a result being active in sports and what motivated her to attain her Personal Trainer Certification to make a change in other people's life as a Performance coach for PacWest Endurance. Karina believes that fitness and health is not a destination you can arrive at or something you can check off and think you are finished. Health and fitness goals one sets can be achieved through hard work and smart planning. Whether it is losing weight, gaining muscle, or improving sports performance, Karina desires to help others in ways that create natural and enjoyable habits that can be applied to everyday life. Karina believes health and fitness is a way of life. It is something we constantly have to work at and something we cannot live without.
Our Office
1530 5th St Suite A,
Berkeley CA 94710