Located in the beautiful city of Berkeley, California, Dr. Johanna Lelke founded this chiropractic office in 2009 to serve the East Bay community.  She is joined in 2022 by associate chiropractor, Dr. Derrick Stom, and since 2021 by Dr. Korina Gov. With advanced certifications in massage therapy, Matt Smith and Thais Diehl are devoted to restoring your body's ease of movement. Karina Polanco-Jimenez is our front office manager. Coach Emily Ridgeway partners with Onsight to bring you remote personal training, coaching and run & swim form assessments. Lastly, Robin Sweet is the backbone of our medical records and insurance billing department, and brings clarity to insurance details often shrouded in mystery.
Providing health and happiness in the
East Bay Community since 2009.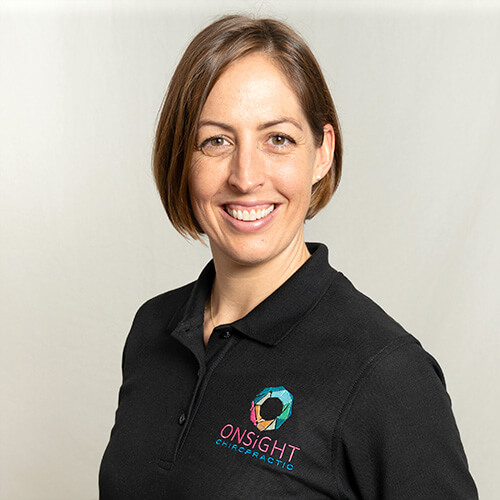 Dr. Johanna Lelke
Doctor of Chiropractic, Founder and Director
Johanna started practicing in Berkeley in 2009 with a focus on short-term care to resolve both acute and chronic injuries. Her passion lies in sports and performance, a competitive athlete herself in college track & field, then in rock climbing, triathlon, and pole vaulting. Keen understanding of human movement and biomechanics has been her strength in roles such as yoga instructor, track coach, and certainly sports chiropractor. In 2016 she set out to expand the practice and created Onsight Chiropractic with its cherry picked staff of standout chiropractors, massage therapists and personal trainers. A longtime partnership with PacWest Endurance has enabled them to promote health and fitness together from the same Berkeley facility for their community. In her personal life, Johanna thrives on raising her daughter, Elli, with her husband Jay and frequenting hiking trails, biking routes and beaches.
DrJohanna@onsightchiro.com
Education
Certifications
Notable Athletic Achievements
Avid traditional and sport rock climber: 2003-present
USA Track & Field Masters pole vault competitor: 2016-2018
Top 10 age group finisher at Ironman 70.3 Hawaii: 2015
NCAA Division 1 Heptathlete and Pole Vaulter for UMass: 1998-2001
Atlantic 10 Conference Track & Field Championship Team UMass: 1999
Massachusetts State and All New England High Jump competitor: 1998
Dr. Derrick Stom
Doctor of Chiropractic
Derrick was born nearby in Walnut Creek, where he played football and baseball while growing up. After attending the United States Military Academy to play football, Dr. Stom came back to Diablo Valley College and then graduated from University of Nevada, Reno with a Bachelor of Science in Kinesiology. After multiple football injuries playing for the Black Knights and the Wolf Pack, Derrick began to seek chiropractic care for his low back, hips, knee, and wrist. As a graduate of Palmer West College of Chiropractic, Derrick is now living his decade old dream of becoming a sports chiropractor. Nowadays, he enjoys staying active through powerlifting, cycling, swimming, and hiking. It is Dr. Stom's honor and pleasure to work with his Easy Bay community, treating all kinds of musculoskeletal injuries.
DrStom@onsightchiro.com
Education
Certifications
Notable Athletic Achievements
Elite Level USPA Powerlifter 242 lb division: 1533 lb Total
Offensive Guard for Army Black Knights and Nevada Wolf Pack: 2013-2015
California All Star Game Starter
3rd Team Offense All-California: 2012
1st team Defense Diablo Foothill Athletic League: 2011-2012
1st team Offense Diablo Foothill Athletic League: 2011-2012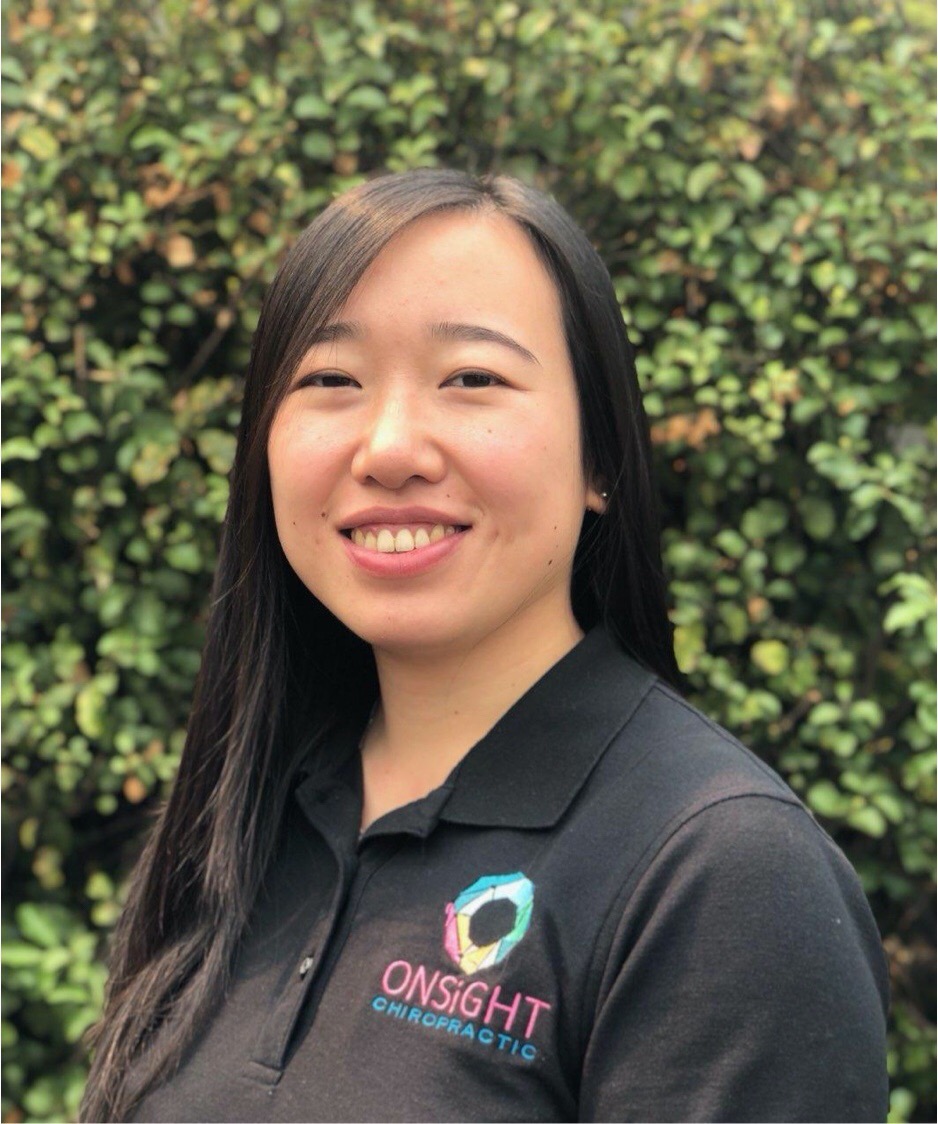 Dr. Korina Gov
Doctor of Chiropractic
Dr. Korina Gov hails from Toronto, Canada, where she learned how to play a long list of sports. She found a particular love of ultimate frisbee and went on to captain the University of Toronto's club team. She watched her teammates suffer from chronic injuries throughout the season and was drawn to a healthcare path in which she could give back to the greater sports community. She had also watched her parents live in chronic pain for years and then exposed them to the positive impact that chiropractic has on a person's wellbeing. Dr. Gov graduated as Salutatorian of her class at Palmer College of Chiropractic West and also gained experience interning at another sports chiropractic clinic. Her leadership, soft tissue and adjusting skills, and empathetic nature made her the best possible new addition to Onsight.
DrGov@onsightchiro.com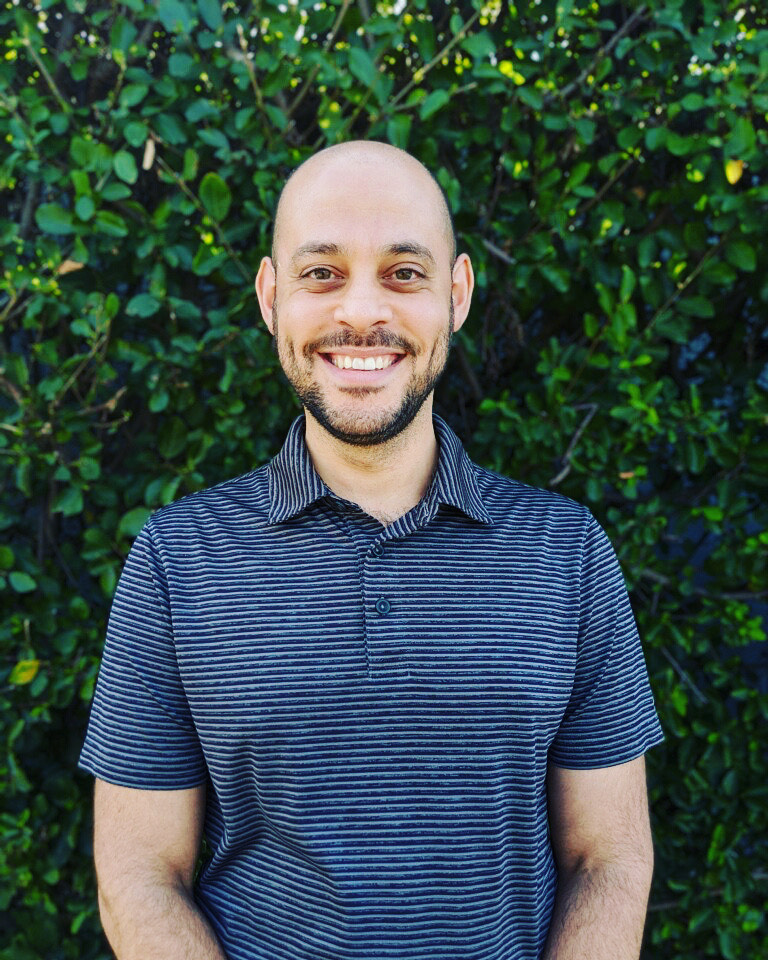 Matthew Smith
Certified Massage Therapist
Matt was born and raised on the East Coast, knowing by the time he was in high school that he wanted a career dedicated to helping and being of service to others.  Initially, that vision took the form of classroom teaching in Maui and then the East Bay. Transitioning away from teaching to find more work-life balance, Matt went to massage school, interned in the sports medicine department at St. Mary's College, and completed NHI's Advanced Neuromuscular Therapy Program. Now at Onsight, Matt wants to have a collaborative relationship with his clients. He's particularly interested in knowing their history of injury and movement to aid in their postural dysfunctions, repetitive stress injuries, and decreased ranges of motion. He looks forward to being a part of your path to healing and health.
Matt@onsightchiro.com
Thais Diehl
Certified Massage Therapist
Thais (pronounced Ty-is) is a California native whose interest in massage therapy and hands-on healing goes back to her earliest memories. Whether it was walking on her mother's back as a toddler, rubbing her kindergarten teacher's shoulders, or being initiated into Reiki at the age of 8, caring for others through therapeutic touch has always been an essential part of who she is. Thais first attended Alive & Well, Institute of Conscious Bodywork in 1996 and earned the title Certified Massage Therapist. She recently went back to school at National Holistic Institute in Emeryville to refresh and refine her knowledge and skill set. Thais utilizes a variety of soft tissue, musculoskeletal and energy therapy techniques to support the rehabilitation process of injuries, reduce overall stress, support the body's ability to maintain homeostasis, emotional balance and overall well being. Thais' mission as a massage therapist is to bring complete presence to each client, to hold a lucid and non-judgemental space for what is being experienced, and to customize her therapeutic expertise, uniquely supporting each client in their restorative and self-healing process.
Thais@onsightchiro.com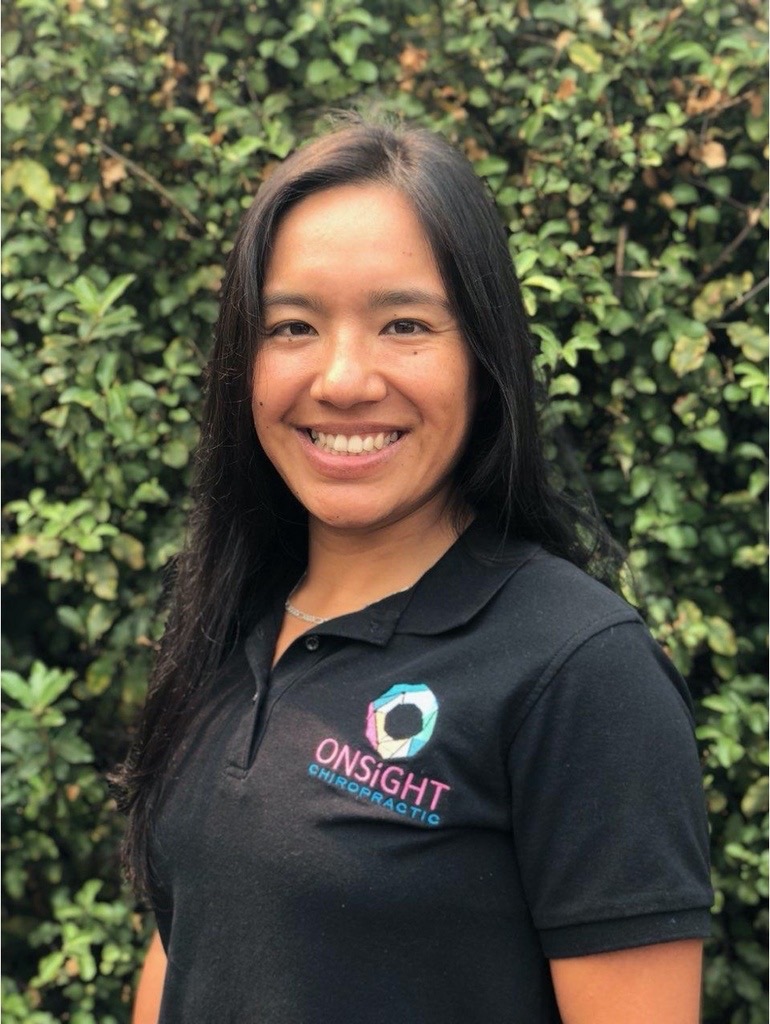 Karina Polanco-Jimenez
Front Desk Manager
Karina joined the Onsight team in 2019, bringing with her an inspirational set of life experiences. She is the friendly, often first, face that you encounter at Onsight. She is an excellent communicator, in both Spanish and English, and strives to make our patients and clients feel most welcomed in our office.
Karina believes that sports and fitness significantly impacted her life, overcoming many personal and family challenges from early life. Team sports gave Karina a sense of belonging, confidence and courage that led her on a new adventure to earn her Bachelor's degree from Cal Berkeley.
She has been a competitive triathlete since 2017 and with the help of her coach and team, she represented Team USA at the Triathlon World Championships.
Karina@onsightchiro.com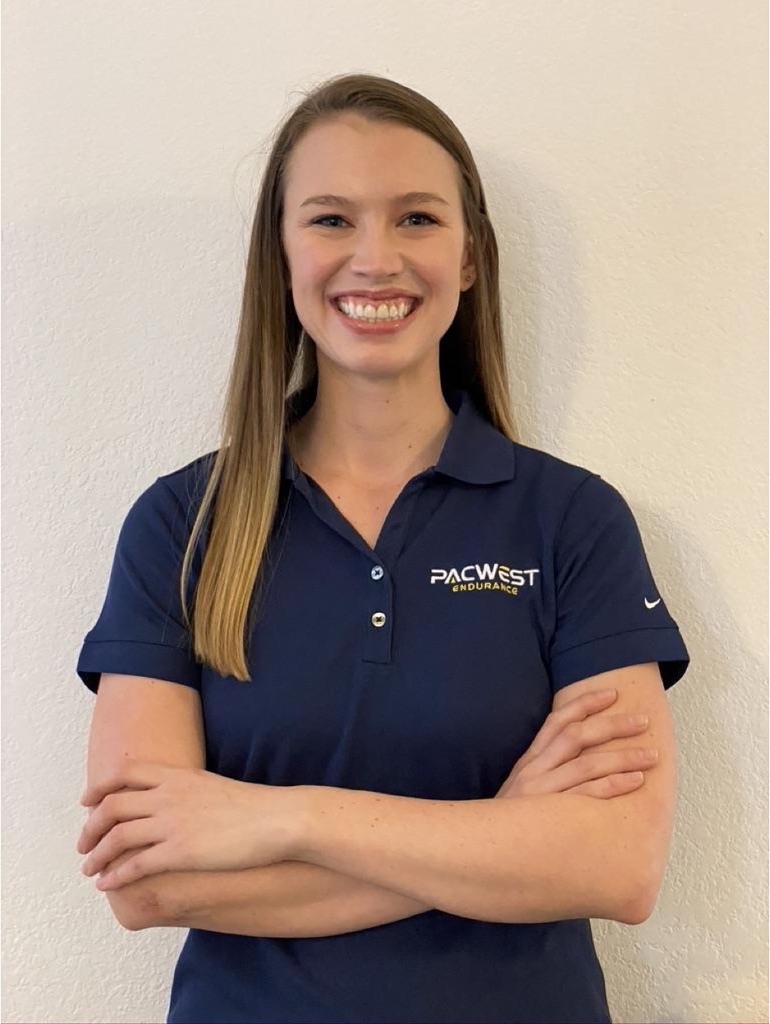 Emily Ridgeway
Personal Trainer and Triathlon Coach
Coach Emily is an accomplished triathlon coach and personal trainer with 10+ years of experience. With a strong passion for athletics since childhood, she earned both Bachelor's and Master's degrees in Health Sciences and Education. During her collegiate years, she competed for the Mizzou Triathlon Club Race Team. Paving the way for women's triathlon to become an emerging NCAA sport, she was invited to race at the inaugural USA Triathlon Women's Varsity National Championships (2014 & 2015) in Clermont, Florida. Working for various fitness organizations over the past decade such as PacWest Endurance, The Bay Club, Equinox, and Ultramax Sports, Emily has helped hundreds of individuals achieve and surpass their fitness goals.
Emily@pacwestendurance.com
Education
Certifications
USA Track & Field (USATF) Level I Certified Coach
USA Triathlon (USAT) Level I Certified Coach
National College of Exercises Professionals (NCEP-Fitness) Certified Personal Trainer (CPT)
Functional Movement Screening (FMS) Level 1
Notable Athletic Achievements
2017 Kona Ironman World Championship – Finisher
2017 Ironman Santa Rosa – Female 20-24 AG (2nd place) – 2017 Ironman World Championship Qualifier
2016 ITU Worlds Long Distance World Championship – Female 20-24 AG (4th place) – Representing Team USA
2015 Ironman 70.3 Hawaii – Female 20-24 AG (1st place) – 2015 Ironman 70.3 World Championship Qualifier
2014 & 2015 USA Triathlon Women's Varsity National Championships (NCAA)
USA Triathlon National Championship – Finisher & Worlds Qualifier (Team USA): Sprint (2014, 2015), Olympic (2014, 2015) & Long Course (2012, 2014, 2015)
USA Triathlon Collegiate National Championship – Qualifier & Finisher (2012, 2014, 2015)
2012 USA Triathlon Long Course National Championship – Female 19 & Under AG National Champion
Robin Sweet
Billing & Account Specialist
Robin has over 35 years of experience in billing and coding for multiple medical specialties but dedicated the last 17 years to the chiropractic profession. Early in her career, Robin was a claims processor for Regence Blue Cross Blue Shield of Oregon. She is fluent in the language of insurance and enjoys helping to translate for our patients. Robin is a true fan of chiropractic health care, so she became a certified Chiropractic Assistant as well. Her expertise is valued not only by Onsight, but also by several chiropractic offices in California, Oregon and Washington. Outside of the workplace, she loves riding her ATV on the Oregon sand dunes, gardening, bonsai, and relaxing at home with her husband.
Billing@onsightchiro.com
Our Office
1530 5th St Suite A,
Berkeley CA 94710