Did you know we spend 80% of our time walking on one leg and practically all of our time running on just one support. This is why it's very important to develop a good balance system to keep all of our joints in alignment during these task, whether you are a runner or a fighting athlete. Before I give you some exercises here is a little something about the system that keeps us balanced: the vestibular system. Arguably the first nervous system to develop in the evolutionary process, it served the purpose of keeping us oriented in space as cute little jellyfish. The vestibular system takes input from three separate senses. The eyes, joints and inner ear. With that in mind, we want to strengthen and challenge the inner ear by removing the other two senses.
IF YOU FEEL WOBBLY PLEASE STAND CLOSE TO A WALL DURING THESE TO HAVE SOMETHING TO GRAB ON TO
Exercise 1: Single Leg Balance. Simply stand on one leg by bending the knee of the other leg backwards. That alone should be enough to make some of us wobble and if it does, you have to seriously consider doing these balancing exercises or at least getting tested for gluten sensitivity.
Exercise 2: Same as exercise 1, but this time close your eyes. This takes out our most dominant balance system, the eyes. We tend to overly rely on eyes to keep us balanced, but true balance should come from the inside.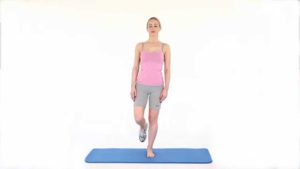 Exercise 3: Finally do the same thing as in exercise 2, only on a soft uneven surface. I recommend an Airex pad for best results, but a pillow will do just as well. This takes out the steady input from your ankle joint and makes the exercise progressively harder. If you can hold for 30 seconds in this position your vestibular system is in great shape!
This article was written by Dr. Nick Predtechensky. He may be reached via email at DrNick@onsightchiro.com.