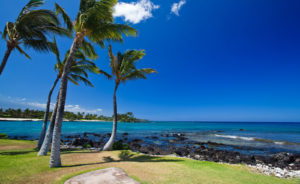 I arrived late last night and have mostly positive emotions going into this relaxing vacation with a half ironman sprinkled in the mix! Having not been on a vacation since, hmmm, August, I am thrilled to enjoy this week of down time. But what would a vacation be without a big athletic challenge smack dab in the middle? I'm here with many special people sharing a gorgeous island house, and I'm so pleased that my boyfriend, Coach Jay Ridgeway, is along for the ride. He has the duty and privilege of coaching a constituency of 11 athletes from the PacWest Club and Race Teams. With all of the hard preparations behind us, let's be honest, his principle responsibility this weekend is to greet each of us at the finish line with a Pina Colada. Among the lineup of athletes is his daughter, Emily Ridgeway, who is also my lovely office assistant. The youngest of the triathletes in our group, she has a strong potential to podium in her age group on Saturday.
The Event:
Ironman 70.3 Hawai'i
Saturday, May 30 at 6:56am local time
Athlete Tracker: real-time participant progress
I sincerely thank my patients and friends who have given me so many words of encouragement throughout this journey, right up until my last patient yesterday. I appreciate you listening to my tales of fun and dreadful training workouts. The volume of swim/bike/run has been far beyond my comfort zone, to say the least, for the last 16 weeks. The most common question by far has been, "what's your strongest event?" To which I answer, reluctantly, running. But truth be told, I'm no stand-out in any of these triathlon disciplines. Yes, I was a Division 1 track & field runner in college, but those were SPRINTS! Since last summer (remember the disappointing cancellation of the Half Ironman in Lake Tahoe last September?) I've been learning to become an endurance athlete, but it's proving to take time, dedication and patience. The typical training volume for a Half Ironman is 22 hours per week—some weeks more, some less. It's no exaggeration to say that it's a part-time job. For FULL Ironman hopefuls, which I declare that I am not, training is certainly a full-time job. God bless anyone who wants to take on that challenge.
I'm a little bit nervous but mostly excited to put myself to the test during Saturday's 1.2-mile ocean swim, 56-mile bike ride, and 13.1-mile run in the heat, humidity and gorgeousness of the Big Island. In addition to the Ironman 70.3 Hawaii webpage with its Athlete Tracker feature, you can get a more intimate scope of our week's Hawaiian festivities and race day photos on the Lelke Chiropractic (as well as PacWest Athletics') Facebook pages. Thanks again for your support!
-Dr. Johanna